Version: 2.5.3 Beta
Language: Multi-languages
System: Win 2000/XP/2003/Vista/7 + IE6 or later
Date: 2008-01-10
License: Free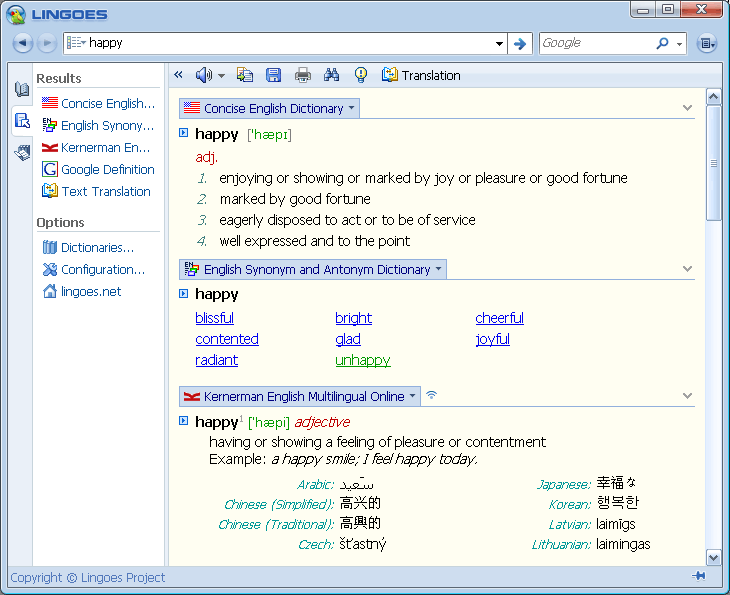 Lingoes is a dictionary and multi-language translation software providing results in over 80 languages. It offers full text translation, capture word on screen, translate selected text and pronouncing text, and abundant free dictionaries as a new gerenation dictionary and translation software. Lingoes offers users the instantest way to look up dictionaries and translation among English, French, German, Spanish, Italian, Russian, Chinese, Japanese, Korean, Swedish, Thai, Turkish, Vietnamese, Greek, Polish, Arabic, Hebrew and more over 80 languages.
With the creative cursor translator, Lingoes automatically recognizes the word and its definition as soon as you move the cursor and point to any text, then press hotkey. It wouldn't disturb your current work.
Lingoes owns full features of current popular commercial software, and creatively develop cross language design and open dictionaries management. A plenty of dictionaries and thesauruses are listed for free download. Lingoes is the best tool for learning all kinds of languages.
feature:
* The default mode of cursor translator is "Ctrl + Right Mouse"
* Upgrade from old version, just install the new version into the old folder and overwrite it. (needn't uninstall old version)
* Innovative zoned word translator will change your communication method with the world.
* New instant translation can translate as many as 23 languages of text into your native language(or other language)
* New natural voice can perfectly pronounce word just like a native English speaker.
* Provide plugin for Adobe Acrobat Pro
* Support cursor translator more fluently in Firefox 3
No spyware, No adware
for more information click
here
source:
LINGOES.net